One of my boys' Mother's Day presents to my wife was a new movie, Mercy Rule.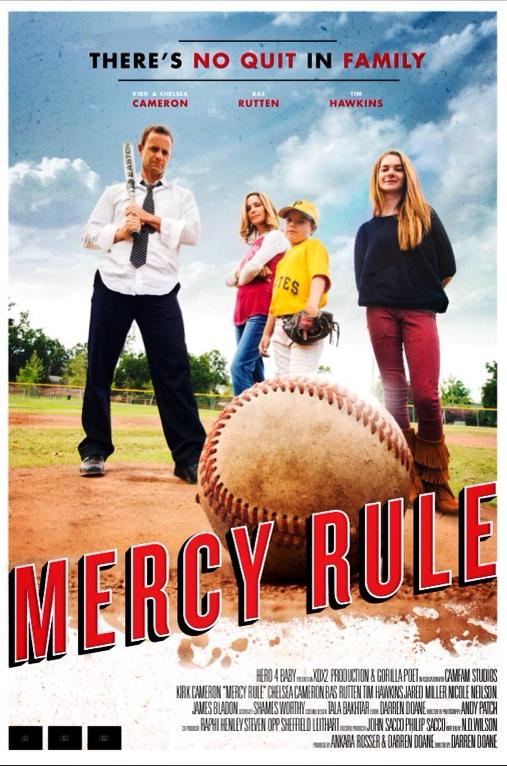 You may or may not have heard of it. Kirk and Chelsea Cameron are both in it, along with Christian comedian Tim Hawkins. Kirk and Tim play John and Ben Miller, brothers overseeing their father's scrapping business who are about to have a load of trouble to deal with. The other storyline running throughout is John's son, Cody, in his little league baseball struggles. Of all the characters in it, my favorite has to be the boy's baseball coach. Played by Bas Rutten (the MMA fighter), he teaches Cody how to be truly valuable to the team.
During one game, he makes a long throw from right field to home plate, trying to stop a run from getting in. The catcher is out of position, and completely misses the ball, allowing the run. In his frustration, Cody throws his mitt to the ground, pitching a fit in right field. He then finds himself benched. That night, he hops on his bike and visits his coach at home, hoping to find out why he won't let him pitch.
He finds his Coach having a bad night, as he has just burned dinner, and already received 3 calls from other players' parents wanting him to treat their kids differently. But, Coach respects Cody for coming in person, and agrees to hear him out. Cody is surprised to learn that the reason he is warming the bench isn't because he pitched a fit on the field, but because he threw the ball in the first place.
"I shouldn't have thrown my glove in the outfield when Stevie didn't cover home."

"No. You shouldn't have thrown the ball."

"What? Why not? The runner was rounding third. I knew I could get it there."

"Yeah, you knew you could get it there, but you also knew Stevie wasn't there."

"Yeah, but..."

"A good player is like a good brother. He gets your back when you screw up. He's out there, making everyone around him better: saving butts, covering for mistakes, coming through when every other kid in a matching lid is depending on him. You saw Stevie was out of position and you still threw that ball. you made everyone in that park notice that Stevie was being an idiot. You drew attention to it. You made things worse, just to make your point. Think about it. A runner advanced off that throw. You put your team and your pitcher in a bigger hole, and you made your catcher look like a moron. So, no, you're right. You shouldn't have thrown your glove, but first, you shouldn't have thrown the ball."

"I wasn't trying to make Stevie look stupid."

"In baseball, we back each other up on the field. Always. Every boy will fail or succeed all by himself; but, with everyone watching, the fear of striking out, of leaving runners on base, of being the weak link in the lineup, it even beats the big-leaguers. Now, teammates work against that. They pick each other up...Why are you here, Cody Miller? What was it you wanted to say to me?"

"I just wanted to find out why you weren't letting me play. I just wanted to find out why you weren't letting me pitch."

"I'll put you back on the field when I think the whole team will be better for it; when boneheads like Stevie will feel safer with you out there. As for pitching, you're strong, but you don't have great control. If there are better guys I can put on that mound, I will. And, you should always want the best guy out there, even if it isn't you."

"So, if I'm the best, you'll play me?"

"No. If you're the best for the team I'll play you. Got it?"
How many aspects of our lives can we apply this to? Family? Work? Church? Am I being what's best for the team? Can my family, coworkers, employers, church family, and friends count on me? Can Christ? Am I being that player who can be counted on? When given an unexpected and unwanted position to play, do I stick to it and do my best, or just long for something else?
"Trust in the Lord, and do good; Dwell in the land, and feed on His faithfulness.

Delight yourself also in the Lord, And He shall give you the desires of your heart.

Commit your way to the Lord, Trust also in Him, And He shall bring it to pass.

" - Psalm 37:3-5
Cody eventually turns his attitude around, and becomes the encouraging, optimistic, dependable teammate his Coach knew he could be. Would our "Coach" have us strive for any less?
Will we spend our time distracted by the Stevie's in our lives, or move on and be the player our Coach wants us to be?
www.asonevoice.com